Its been a while I know. I'm just all over place lately, and I mean that literally. I'm getting ready for a big move, then i went to New york, then California and back, my external hard drive fell and crashed, them my Macbook crash and finally my beloved iPhone was stolen (together with my sparkly swarovski elements case 🙁 …
Anyhoo, I'm determined not to let anything get me down, so get ready for an avalanche of blog posts, starting of course with the Makeup Show NewYork
2 weekends ago was The Makeup Show New York. I missed last year's edition and swore I wouldn't miss it this year and I'm so glad I didn't! It's without a doubt my favorite makeup show in the world and indeed one of my favorite events ever!
The Makeup Show NY Bloggers Preview
My makeup filled weekend of the 12th-14th of May started with
The Makeup Show NY bloggers preview on Saturday the 12th. First James Vincent introduced us to a series of products to be launched/sold at the show, many of which we were given in our press bags (yay!).
Then it was a cocktail/makeup party on the 5th floor themed Walk on the Wild Side featuring a curated photo work and live model makeup applications.
An awesome networking opportunity, I got to meet and chat with bloggers, vloggers and artists I've followed for years including Jennifer James, The Gorgeous Ingredient,Felicia Walker Benson of This that beauty, DrBrooklyn, Tyra's little sis, Sherry blossom, Yinka of Vex in the city, Diva of Diva odes makeup, …(this list could go on for a while LOL)
1 big happy family… L-R: Frances of

Revealing Beaute

, me, Sharonita
of
The Runway Times
, Meril of

Miss Meril NYC

, Diva of
Welcome2divasworld
, Sanatara of

The Gorgeous Ingredient

edient, Bethany with The Makeup Show and Jennifer James.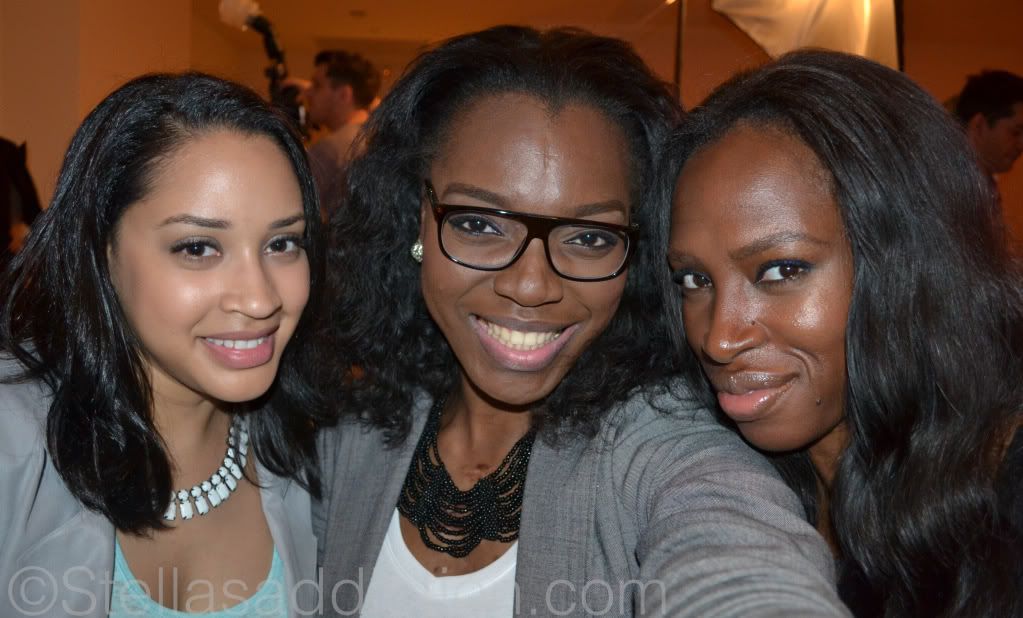 As if that wasn't enough right after the makeup party, we were of to the next one; The Experience, a makeup networking event hosted by
Miss Sherry Blossom,
A
lexandra Butler (Makeup Artist/MUA for "Love & Hip Hop ATL"), Sugar (Natural Hair Vlogger) and
Keisha (Ahsiek1118 on YT: Natural Hair Vlogger
)
. The Experience took place at

Pranna

, a chic
restaurant-bar-lounge.
Angel Fields, Devin of

We should Makeup

, Anisa and I
The Experience Swag bag

😀
An awesome saturday and a great way to usher in The Makeup show the next day 😀
xoxo