I have spent quite a bit of time in Nigeria over the past three months, so I decided to check out the Nigerian make up scene.
First up House of Tara and BM pro, make up lines founded by two of the most popular make up artists in Nigeria.
House of Tara:
The studio is located at 9A Okoawo Close Victoria Island, Lagos Nigeria. Its somewhat hidden as its on a small street off Adetokumbo Ademola street, but if you have the address you should find it just fine. At the studio you can get make up from House of Tara as well as Black Up, Iman and Sleek
I wasn't overly impressed with the layout of the studio, it was really basic. White wooden shelves, tiny pictures and no samples in sight.
Last year Tara launched a H.I.P collection, I was curious so I picked up a matte eye shadow in Aura and as per my dear friends's recommendation, eye liner in Adire.
BM Pro:
The studio is now at
13B Awori Road, Dolphin Estate. The studio is right in the heart of a residential estate, there is no sign outside so if you didn't have the address you could drive right past it. The only sign outside the building reads No: 13B.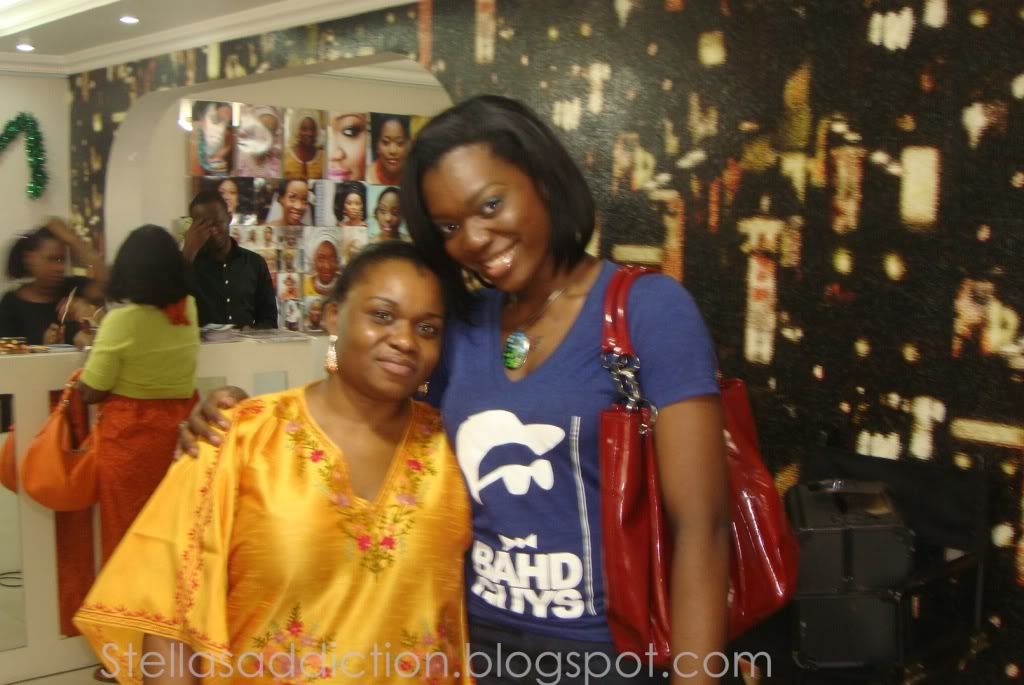 Banke Meshida Lawal and I
Inside is a hair salon, make up studio and although I didn't see it, a photo studio. The display table was overflowing with samples and 2 walls nearby were covered in pictures of her work (as seen in the picture below). I wanted to buy everything but limited myself to 2 pressed and 1 loose eye shadow.

While I was there Banke Meshida Lawal (the founder) walked in and after gushing about how much of a fan I was, I asked her the shade of eyes shadow I have noticed she uses on a lot of her clients. If you are familiar with her work you might have notice it too. It's a browny gold shade that works well on different complexions, turns out its called "Masquerade".


Blush Nigeria
The shop and salon were launched earlier this month at 1388 Tiamiyu Savage Victoria Island Lagos. Apart from the Blush make up range they carry other cosmetic brands like Naked cosmetics, OPI, Aromatherapy Associates, Butter by Keba, Lippmann Nail Polish and Philosophy. I like the layout of this store, ver open; white shelves filled with beauty products lined the walls with white tables down the middle carrying more products including the Blush make up line.
I got a 15 color professional eye shadow palette and a bag of candy.


Casabella
I was told they have many stores in Lagos but I have only been to one, opposite the food court in the Palms shopping mall. I'll call this one a beauty supply store because they carry a wide range of cosmetic products, tools and books, including Ardell lashes, Revlon, Iman, and tons more. Their own make up brand however is never labeled, so of course the marketer in me thinks they are nuts but hey, what do I know. I picked up two matte eye shadows from them.




That's it. reviews & looks to follow shortly 🙂


TTFN!