During a recent trip to the Lagos market to purchase Black Opal foundation I quickly realised the counterfeit version was indeed more common than the real thing!
In a matter of minutes I became a pro at spotting the fake so of course I decide to share them. Here are some tips for spotting the fake.
*It is important to note there are many versions of the fake so differences may differ. My tips are based on my observations on the versions I saw and the sample I purchased for the purpose if this comparison.
At first sight they look identical…
But under lies the true difference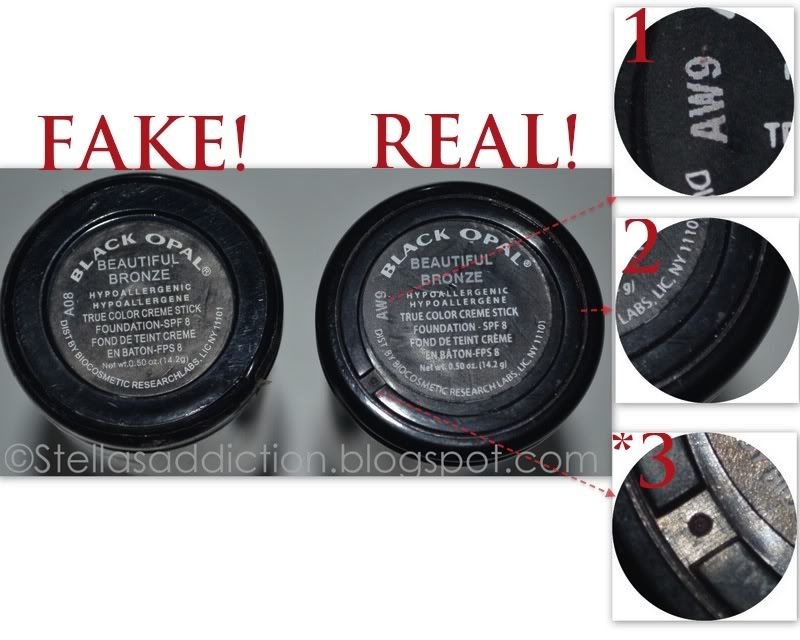 On the label at the bottom there should be 3 figures; 2 letters and 1 number.
There is a thick plastic ring around the sticker.
There is a break in the thick ring and in the break is a dot. This is believe it or not the most consistent difference, none of the fakes I saw had the break AND the dot.
The bar code on the side sticker is also in a different font
Others…
5. The shades are also quite different so if you have one real one you can use that as a guide.
Both swatches are of "Beautiful Bronze"
6. Rolling up the product on the fake one, I noticed a squeaky sound of plastic grinding against plastic, the real thing does not do this.
7.
If the price is too good to be true, it's because it's a fake!
In Lagos the sticks retail for
N
1,300-
N
1,400 ( I got the fake one for just
N
800)on their
official website
it's $9.50 in Paris €10-12 anything less than this is not the real deal!
There you have it, my tips for spotting fake Black Opal. As you can tell these are very tiny details that can easily be missed. The best tip I can give you is: KNOW YOUR SOURCE.
When in doubt don't buy.
Hope this helps!